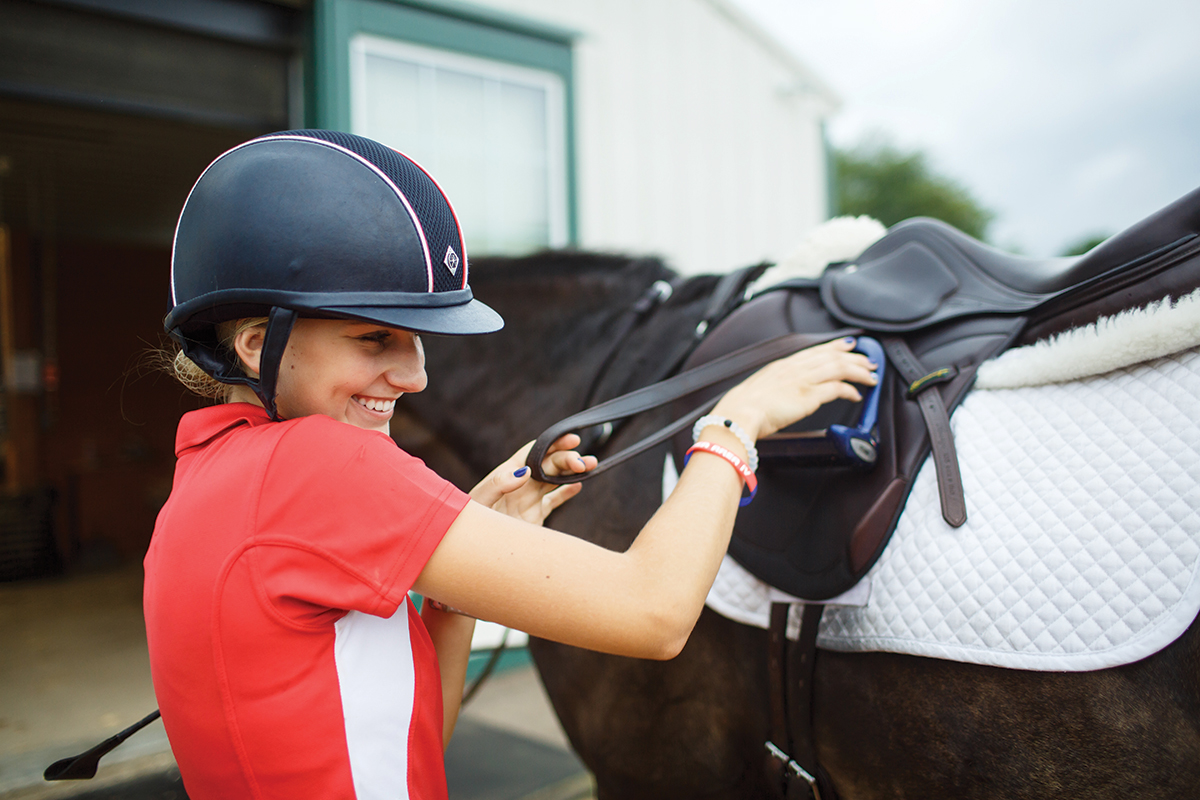 A riding helmet for every rider
Stylish looks, comfort and advanced technology: today's riding helmets tick all the boxes when it comes to style and safety. Whatever your equestrian passion, there is a helmet to suit your needs. And with a growing industry dedicated to the continuous development of safety standards, cyclists can be assured of the highest level of protection possible.
What's new in riding helmets
New trends include rose gold or chrome trim, wider sun rims, cool colors like chocolate brown, dark gray and royal blue, and glossy finishes.
New riding helmet comfort features that are also stylish include leatherette harnesses for a sophisticated look that offers soft padding around the face. Many brands offer ventilation without compromising safety; these strategically placed vents channel airflow under the helmet while creating visually appealing lines. Look for antimicrobial, moisture-wicking, and Coolmax liners to help keep things cool.
For Western riders, Resistol riding helmets have a cowboy hat look, while Troxel has created a traditional helmet with Western designs.
Certification standards
When buying a new helmet, be sure to look for one designed for riding and not for other sports. Riding helmets are tested to withstand hazards specific to equestrian activities, such as kicking and crushing impacts, falls from horse height, and falls onto objects.
Guidelines for equestrian helmets published by the United States Centers for Disease Control and Prevention (CDC) recommend certification by the Safety Equipment Institute (SEI), Snell Standards (Snell Foundation) and/or the American Society for Testing and Materials (ASTM). Helmets certified by the Snell Foundation have undergone the most rigorous level of testing.
MIPS technology
More recently, you may have noticed riding helmets with a prominent yellow label emblazoned with "Multi-Directional Impact Protection System" (MIPS). MIPS is an additional safety component integrated into the helmet; this layer redirects the rotational force in the event of a side impact to the head. This technology was born with the bicycle helmet industry.
Equestrian brands with current MIPS helmet technology include Armis, Back on Track, Champion, Charles Owen, Hööks, One K, Tipperary Equestrian and Trauma Void.
"Adding MIPS to equestrian helmets has become a priority for riders in recent years," says Kara Williams, merchandising buyer at Massachusetts-based SmartPak.
How exactly does MIPS work?
"In short, MIPS is a thin inner liner inside the helmet that allows the helmet to move up to 5 millimeters in the event of a fall, allowing the helmet to move slightly to absorb more impact when you enter in contact with the ground," says Michelle Drum, e-commerce, social media and marketing manager for Farm House Tack in Landrum, SC.
Size your riding helmet right
Ready to start finding your optimal riding helmet?
"The best advice I can offer riders buying a riding helmet is to take the time to go to a tack shop and get it fitted by a trusted professional," says Drum. "If you don't have access to a tack store you trust to equip you with a helmet, find a store that is up to date with technology that can do real-time head measurement via Facetime or Zoom. Buying a new helmet can take time, but consider that we are talking about your head here. You only get one, so it is a significant investment. Consider the levels of safety offered by all manufacturers helmets and choose the one that offers the most protection and comfort for your budget.
To choose the correct size, measure the widest part of your head (about a finger's width above your ears and eyebrows) with a soft tape measure, keeping it level around the circumference of your head. Some brands of helmets are sized in centimeters and some in inches, so take note of both measurements.
Then, consult the size chart corresponding to the brands you are interested in. Some use universal sizes (S, M, L), while others use traditional hat sizes (7, 7 ¼, 7 ½, etc.).
A dial feature on many helmets allows for small adjustments to customize the fit, and new to the scene is One K's adjustable air bladder in the helmet liner, which can be inflated and deflated for discreet changes. of adjustment.
Riding Helmet Fit
A knowledgeable sales representative can advise you on finding the best brand for your needs, as well as finding the optimal solution. Try different lines and styles. Williams notes that different brands vary slightly in size and shape, so it's not uncommon to have different sizes in different brands of helmets.
Your helmet should rest just above your eyebrows. When trying on, gently shake your head: the helmet should stay snug and not slip; it should move up and down with your skin if you raise your eyebrows, but not slide if you tilt your head forward and back.
If the helmet is too small, it will not fit your head and may cause headaches. If it is too large, it will slip, compromising safety.
Keep in mind that the materials around your head can loosen a bit with wear in some brands, so if you're between sizes, consider going down to the smaller size so your helmet doesn't fit too much. let go later.
You know you have the right fit if it's snug but comfortable. If it's too tight against the front and back of your head, you may need an oval shape. If it's too tight against the sides of your head, you may need a round shape.
Adjust the chin strap so that one finger fits between the strap and your chin. The side straps should rest just below your earlobes.
Try on the helmet with the hairstyle you wear to ride; for long-haired riders, that means either tied in a ponytail, braid, or bun at the nape of the neck. If you wear your hair under your helmet in a hair net, try all helmets this way.
If you sometimes wear long hair outside your helmet, like a ponytail, and other times tucked into your helmet, you may want to consider buying two different helmets. Another option is a helmet with an adjustable dial or air-fit to accommodate slightly different sizes. Alternatively, there are brands that offer a thicker liner and a thinner liner so you can wear your hair both ways, and also wash one while using the other.
Caring for your riding helmet
To clean your riding helmet, simply wipe it with a damp cloth. Liners can be removed and washed in some cases; if not, they can be treated with a deodorizing spray. Extreme temperatures can weaken the materials in your helmet, so don't store it in your car or in direct sunlight.
All helmets should be replaced at least every five years or after any fall or fall. Even if you don't see any damage after an accident, the interior structure can be compromised absorbing the blow. Many manufacturers offer a discount on crash replacement helmets during the warranty period, so be sure to keep the paperwork associated with your helmet purchase.
A helmet for any cyclist
Drum shares a new feature that she finds particularly appealing.
"My favorite of the latest trends now has to be the elongated brim to shield the sun from your face," she says. "These helmets are a great option to help protect your skin from the sun, as well as providing glare protection in bright climates."
Brighter colors are trending in the rider ring right now, while hunters can find classic style helmets that feature the latest technology and cooling vents.
In the rodeo business, world champion barrel racer Fallon Taylor has caused a stir with colorfully patterned helmets that match her gear and outfits. In an effort to inspire even more riders to make helmets part of their regular routine, many retailers across the country are running promotions on International Helmet Awareness Day.
With the correct fit and a little care, today's helmets offer unprecedented levels of protection while looking stylish at the same time.
This article about riding helmets originally appeared in the May 2021 issue of illustrated horse magazine. Click here to subscribe !