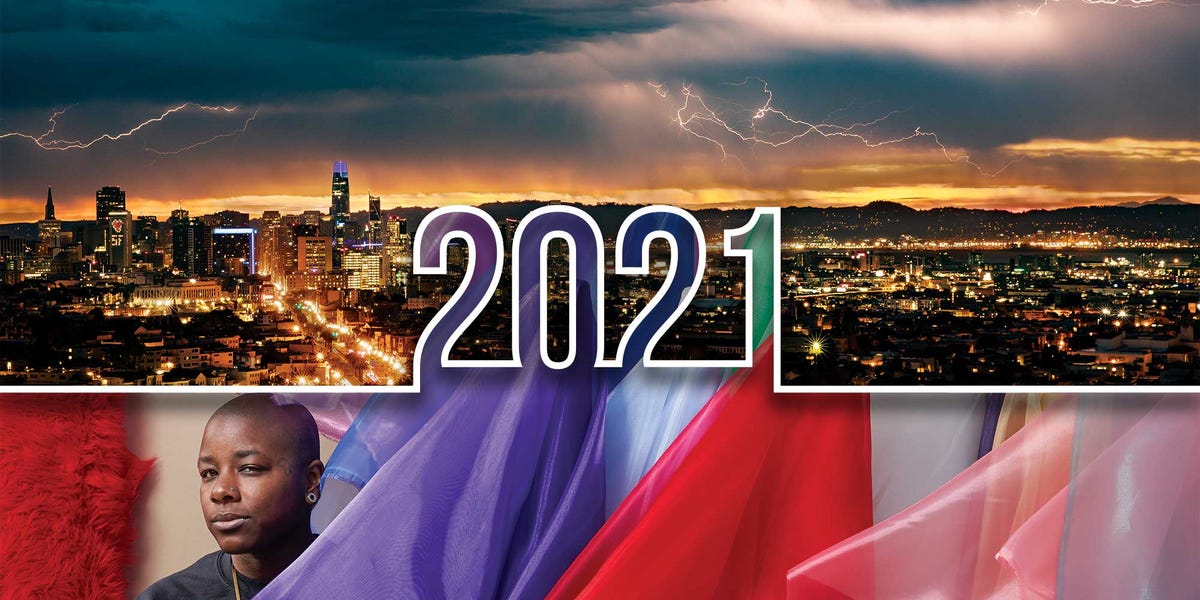 Alta Journal's best photographs of 2021
ALta journalThe 2021 photographers captured moments in forests, airplane runways, city streets, and treks through volcanic rocks. Their photos preserve events that will live on in our minds forever and expressions that disappear as quickly as lightning strikes. Here, several Alta photographers reflect on what was going on behind the camera when they took their picture.
---
CRAIG LEE, A YEAR LIKE NO OTHER, WINTER 2021
"My background is photojournalism, and that's how I started my career. I love portraiture and lighting, which I learned along the way. For me, nothing beats capturing photojournalistic storytelling moments that are real. They capture people's emotions in the moment. Many of these images become historic because they mark an era and a place that will never happen again. I can feel it when I've captured a moment, and it's very satisfying for me.
---
PAUL KURODA, A YEAR LIKE NO OTHER, WINTER 2021
"The winds had died down overnight, which is typical. I saw a few engines in a vineyard and wondered if my van could climb the hill in the sand. I tested it first and it was fine, so I backed up onto the road, making sure there was enough room for the motors to pass, and parked face down so I didn't get stuck, a ABCs of forest fire coverage. I spent time with a young Hispanic firefighter and we talked about a lot of things including his plans for his future. I have also noticed that no firefighter wears a breathing mask, as smoke is a known carcinogen, and if he will wear one if he has one. He told me he would. Then he told me about other engines on the road. I didn't see them because of the dark smoke of the moon. I walked in silence in front of an engine and saw the men sleeping in the vineyard. I thought, this picture is perfect. I slowly and silently backed up behind the motor to set up a camera for this shot, ISO and shutter, aperture wide open at f1.4. Without a sound I looked around the engine and propped the camera to the side as the only light was coming from another engine and it was very dim. I fired silently before firefighter Tylor Yadon seemed to have sensed my presence and sat down. I had my moment. They worked 36 hours and rested while the flames were out. Before leaving the scene, I picked up an extra 3M respirator from my van and gave it to the young firefighter.
---
JASON HENRI, THE THRILL IS OVER, WINTER 2021
"For this assignment with four traditional musicians remaining outside of Esther's Orbit Hall, it was all about playing a phone game, planning and planning some more. I researched the location for the best daylight, as the BART raised platform is directly in front of the old concert hall and would cast a shadow over the building after a while, so it had to be photographed in mid-morning. Due to scheduling conflicts, health issues, and other scheduling conflicts, he was rescheduled three times. The stars finally aligned, and [creative director] John Goecke gave me an extension of time, including planning battles. I got there early and sure enough there was a tractor-trailer parked right in front of the place casting a deep shadow and I was run over. I saw the passenger window was halfway up, so I quietly screamed until a groggy driver appeared from the cabin. Still half asleep, I explained what I was there to do, and luckily he understood and gently moved the truck as the musicians started to arrive. So after three scheduled attempts and a stroke of luck, we got the picture.
---
SPENCER LOWELL, ON A WING AND A PRAYER, SPRING 2021
"What I remember the most from the shoot is that I got into the project thinking I was going to shoot a flying car, but I quickly realized that the story was really about Dezso and his ambition to build a flying car. With a project like this, where I document an experience as it unfolds, I aim to stay as flexible as possible and follow my subject's lead. Dezso was a very intense character with great aspirations, and I hope that is what comes out of my images.
---
PENNI GLADSTONE, SOMETHING IS IN THE BIG CITY, SPRING 2021
"The mission was to show how this bridge is used. I loved the design, and shooting from a low angle made the bridge more exciting. The horse added drama rather than a person walking or a cyclist crossing the bridge.
---
GREGG SEGAL, MAKE CLOTHING SUITABLE FOR ANY KIND, SPRING 2021

"I thought the fashion district in downtown LA would be a great location for my shoot with Stoney Michelli. I imagined him interacting with the rolls of fabric that can be found in front of every store. It was a quick and loose shoot, no permits, and what was going through my mind was, how much can we get away with, no clearances and permits? It was a very windy afternoon and the fabrics from the shot were swelling like flags, adding drama, color and spontaneity to the portrait. Stoney also has a lot of presence and intensity, which also helped create a compelling image. "
---
PENNI GLADSTONE, THE MAGIC OF THE MUSHROOM MAN, SUMMER 2021

"I am inspired by the beauty of the forest, and as Philip hunted for mushrooms enveloped by the woods, he became part of the environment. It was the perfect setting to show how it is nourished by nature. I wanted him wrapped in ferns.
---
GORDON WILTSIE, THE "ORDERED ANARCHY" OF OLD CALIFORNIA, FALL 2021

"This photo of petroglyphs, taken near my birthplace in Bishop, California, represents a sacred landscape that a friend and I first stumbled upon in 1972, while on a hallucinogenic vision quest, exploring a land wonders of strangely shaped volcanic rocks near the still unknown region. Happy Boulders, now an international mecca for climbers. We were both in awe of someone crouching there thousands of years ago, creating a message we can't understand anymore. The whole environment seemed to be a place of spiritual power, and I came back several times to photograph it. "•