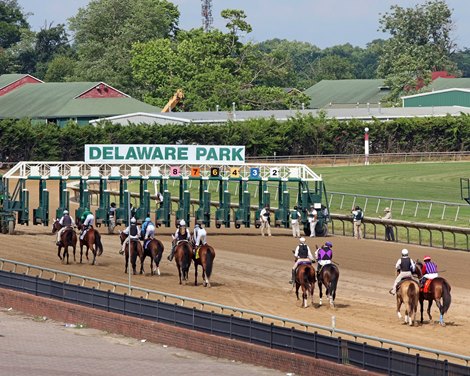 Delaware Horse connections suspended for actions
A trainer, assistant and owner were suspended and fined by Delaware stewards after stewards determined that orderly treatment of a horse needed to eliminate any lameness so the horse could huff and be removed from the list of state vets to run.
A veterinarian's list, maintained by a regulatory veterinarian, notes horses in poor health or convalescence who are prohibited from participating in races until they have fully recovered from physical problems or a set time limit.
The commissioners noted in the decisions of October 15 that the horse, Food and wine , stopped lame after working a half mile on Oct. 3 at Delaware park.
Coach Linda Manchio, 76, was suspended for 30 days (October 20 to November 18) and fined $ 2,500; assistant coach Belinda Manchio, 58, was suspended for 15 days (October 18-November 1) and fined $ 1,000; and owner Jose Rosales, 37, was suspended for 30 days (Oct. 20 to Nov. 18) and fined $ 2,500.
The rulings, referred to as decisions for improper or inhumane treatment of an animal, note that Food and Wine returned sore and was placed on the state vet's list after its last run on June 2, the seventh race to Delaware Park. The 4-year-old War front gelding won this start, an allowance of about a mile and 70 yards, in a door-to-end fashion. (The Delaware Racing Commission disqualified Food and Wine from this victory after a blood sample exceeded the cutoff for methocarbamol; a split sample confirmed the finding and Linda Manchio was fined $ 1,000) .
In order to be removed from the vet's list, Food and Wine had to work and have a blood test.
Stewards said on June 14, the practicing vet performed an ultrasound on the food and wine and the ultrasound revealed a bent tendon with a 50% tear. The practicing vet recommended that the gelding be given eight to 12 months time off to recover.
Food and Wine, back in training, passed three stages in: 38 on September 25 at Delaware Park. Rosales, the owner, contacted the state vet to schedule a breeze to have the food and wine removed from the vet's list and eligible for the race. The job took place on October 3, when Food and Wine went through four stages in: 50 3/5 before stopping in a club. The gelding remained on the vet's list.
The rulings continue to indicate that Food and Wine was treated in August with prednisolone pills and Naquasone (trichlormethiazide) powder. Rosales ordered Naquasone treatment on September 27 and an injection of dexamethasone on September 27 and 28 for Food and Wine, the days leading up to the October 3 work.
Stewards determined that the treatments Rosales ordered for food and wine needed to eliminate any lameness so that the food and wine could function and be taken off the vet's list for the race.
The rulings indicate that Linda Manchio, Belinda Manchio and Rosales did not follow the practicing veterinarian's recommendation for food and wine, that the conduct of the relationship undermines public confidence in the reputation of thoroughbred racing in the Delaware, and that their conduct is not in the best interests of horse racing.
The rulings also note that Linda Manchio will assume primary responsibility for the proper care, health, training, condition, safety and protection of the horses in her care and that Belinda Manchio will assume the same duties. and responsibilities than those imposed on a licensed trainer licensed by the Delaware Thoroughbred Racing Commission.
Linda Manchio did not appear when she was noticed before the Delaware Park board of directors in a hearing on Oct. 15, according to her ruling. The rulings also note that during her testimony in this case, Linda Manchio was not at Delaware Park in 2021 and that her stable was placed in the care of her assistant, Belinda Manchio.
Belinda Manchio and Rosales both appeared before the Delaware Park board of directors for hearings on October 15. Both have also waived their right to a lawyer.
Belinda Manchio was originally scheduled to begin her suspension on October 20, but after reaching out to Commissioners to request a request to start the suspension two days earlier, an amendment to her decision was granted by the Council of Commissioners.
By the afternoon of October 19, neither Linda Manchio, Belinda Manchio nor Rosales had appealed, according to CRTD executive director Sarah Crane. It was not clear if any of the connections were considering appealing.