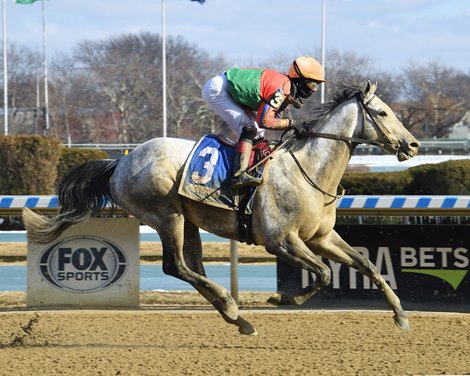 Drafted upheavals favored the happy medium in tobogganing
It's been a while since coach David Duggan won a graded participation.
To be exact, we would have to go back to Lucky charm in the June 28, 2009 edition of First Flight Handicap (G2).
Ask him how many horses there are in his stable and he will be witty and say, "Not enough."
Yet none of that mattered on Feb. 5, as Duggan ended that graduated stakes drought in resounding fashion when Written took control on the turn and took a 4 1/2 length victory in the $145,500 Toboggan Stakes (G3) on a muddy track at Aqueduct Racecourse.
"It's been a long time between drinks," Duggan said. "I've been in a lay-up for a while, I would say."
Register for BloodHorse Daily
Drafted, an 8-year-old child Field Committee gelding, favorite 1-5 knocked down Happy average in tobogganing, winning for the first time since March 2019 when he won the Emirates Skywards-sponsored Mahab Al Shimaal (G3) at Meydan for trainer Doug Watson and Misty Hollow Farm. Since returning to the States last year, he has been winless in eight starts for Duggan, but finished third last time out in the Gravesend Stakes at Aqueduct for his current Dublin Fjord Stables ownership group Racepoint Stables. Kevin Hilbert and Thomas O'Keefe. . They started running with him last fall.
"He showed up without his head showing, so it was good to justify it," Duggan said.
Sent off at 6-1 under Jose Ortiz, Drafte paid $15.80 to win and covered seven furlongs in 1:25.06.
He was raised in Florida out of the Damn this alarm MareKeep the profit by John Foster, Barbara Hooker and the Field Commission Partnership and is the only dam stake winner out of 10 foals.
Jay Em Ess Stable's Happy Medium was a big favorite in the small group of five on a pair of allowance wins by 12 lengths combined. The son of Run happy trailed by 1 1/2 lengths after four furlongs in :47.04 but offered little resistance when Drafted surged alongside on the turn. He finished third, six behind second-placed Double B Racing Stables. Repo Rocks (carpet ).
Video:

Luge S. (G3)