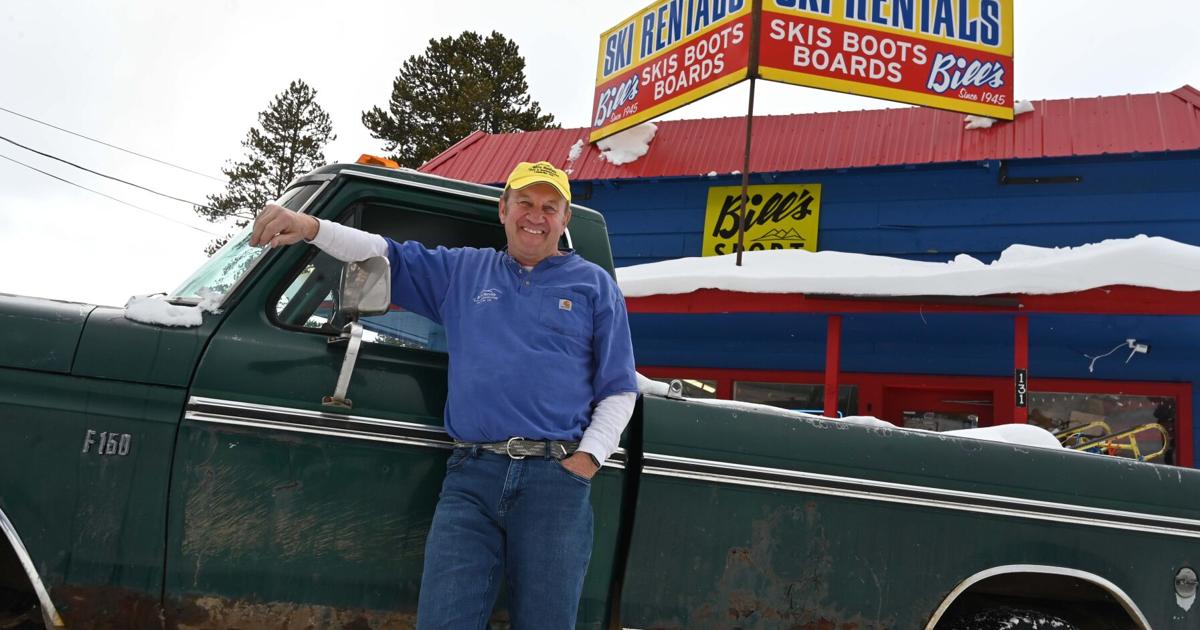 For 77 years, one of Colorado's oldest ski shops is also its most colorful | Way of life
LEADVILLE • The twenties enter the store several hours late. Denver traffic was horrible, they say. They got stuck in the snow.
"We don't want to talk about it," said one. " We are here. We are going to ski.
That's exactly what the owner of Bill's Ski Rentals likes to hear.
Paul Copper, 67, sports a megawatt smile as imposing as his physical presence. He rises from his seat, a bench made from a meat-cutting table from Camp Hale from World War II, the army serial number still visible.
"So okay!" Copper dams.
The guys get ready as the man behind one of Colorado's oldest family ski shops cracks some of his usual jokes.
"Are you going to put those shoelaces on today, or are you going to need some help?" »
"Do you have a girlfriend? No? Do you understand why?"
We love the snowboard tutorial. "Okay. …Now stick out your thumb…smile…and like all other snowboarders, you just might get a ride!"
So goes another day to the shop opened by Paul's father more than 75 years ago. It was Bill Copper, a ski culture legend who took off here with the soldiers-turned-industry pioneers of the 10th Mountain Division.
Paul carries on his late father's legacy with aplomb. His wife of nearly 40 years, Dee Dee, helps on the weekends. Customers walk into the store, the walls lined with generations of family photos, and she says the same to him: "You're up."
"When he's around people," Dee Dee says, "it's almost like a performance."
But no, he's the man she knew as a local waitress decades ago. "He would come to the restaurant, and he was always joking, teasing," she said. "I would see him stop, and we had different sections, and I would say, 'I hope he doesn't sit in my section. ""
So fair warning if you're stopping en route to the local ski resort or Interstate 70 resorts further out: you'll have to put up with a few jokes. Paul Copper is as colorful as the store itself, red and blue, against the backdrop of his forest green 1976 Ford Explorer.
"You must know," he said, "I have a lot of fun here."
He likes to have fun like his father. Bill enjoyed racing burros – he and Bosco were champions in the 1950s – while Paul prefers skijoring, riding horses or skis from behind. Paul also likes mountain biking. He also likes the drums. He also loves scuba diving. He's busy right now converting old vinyl to MP3.
But more than anything, Paul loves to ski. He skis almost every day. He'll take care of the morning rush at the shop, leave with a sign on the door "gone skiing, you should be here with me" – and come back for the rush home at the end of the day.
"If they want to come back early," he said, "I give them the suit for the front door, tell them to put their skis on the bench and the boots over there by the rack, and make sure you to lock the door when you leave."
This can only happen in such a rare and old-fashioned store, increasingly hard to find in an increasingly saturated and corporatized industry. Dee Dee says she often hears it from clients who have rented elsewhere: "This one is totally different.
The gear is up to date — not the wooden skis and leather boots of the early days — but Bill's is otherwise like it was in 1945.
With money from his military service at Leadville High School, Bill Copper opened his rental shop in the bustling Climax Mine. He soon moved into the barracks of what is now Ski Cooper, where the 10th Mountain Division trained for high mountain warfare in Europe.
Pete Seibert was one such ski soldier. He continued to build Vail into the 60s.
"He was a good friend of Dad's," Paul said. "He actually tried to convince my dad to set up a ski rental shop and a ski school" in Vail.
But Bill Copper was more than happy in Leadville, where the family had been rooted from the start. The family saw the mining boom that gave birth to the town and others in the valley: Gilman and Minturn, now abandoned, gone silent without the trains.
Before Bill's, skiing here was simply a convenience, a way to get around. It was a way Bill knew well.
His biography at the Leadville/Lake County Sports Hall of Fame details his childhood of trekking with his father on Hagerman Pass to take water measurements:
"[T]he trip lasted three days. One day, one day to complete the tasks and the third to return. Intrepid skiers wore full-width skis tied at the tip, tarred with pine and coated with paraffin. In the absence of sunscreens at the time, men rubbed their skin with charcoal to avoid intense burns.
Seemingly brutal for today's luxury skiers, but joyous for Bill Copper. He held these positions until the day Paul was born in 1954; the man rushed over the pass and returned for the birth of the boy.
As in the larger city, Bill instilled a love of skiing in his son at an early age.
"One of the things I remember when I was a kid, you know, so many people in Leadville were working in the mine, and he wanted to get them out," Paul says. "He wanted them to enjoy what we're living in, instead of just coming home from work and thinking, 'Ugh, all this snow, I have to shovel it.' He wanted to take them out and see what skiing was like.
For Paul and his siblings, skiing was the best. "I don't think we ever got out of our pajamas from Friday morning to Monday morning. It was our long underwear," he said.
It's no wonder, then, that Paul joined the family business when his father's health was failing. Bill Copper died in 1989.
But his shop lives. With that brilliant smile and bevy of jokes, Paul embodies the delight his father inspired in those family generations captured in photos hanging on the wall.
Up front, Paul keeps photos of the man who started it all.
Dee Dee hates saying that to her husband. "But I tell him: at some point, we have to decide when it's time to stop doing this," she says. "He's not getting any younger. I am not getting any younger.
She would like them to spend more time with the children and grandchildren. They all live out of state.
"The hardest part is we don't have a family member picking it up," Dee Dee says. "We would probably be sold to a stranger who doesn't know the story."
Paul says he thought about selling. But he knows how the buyers are. "When you buy a business, you don't want to pay what it's worth," he says.
This is the problem. For him, all this is priceless.