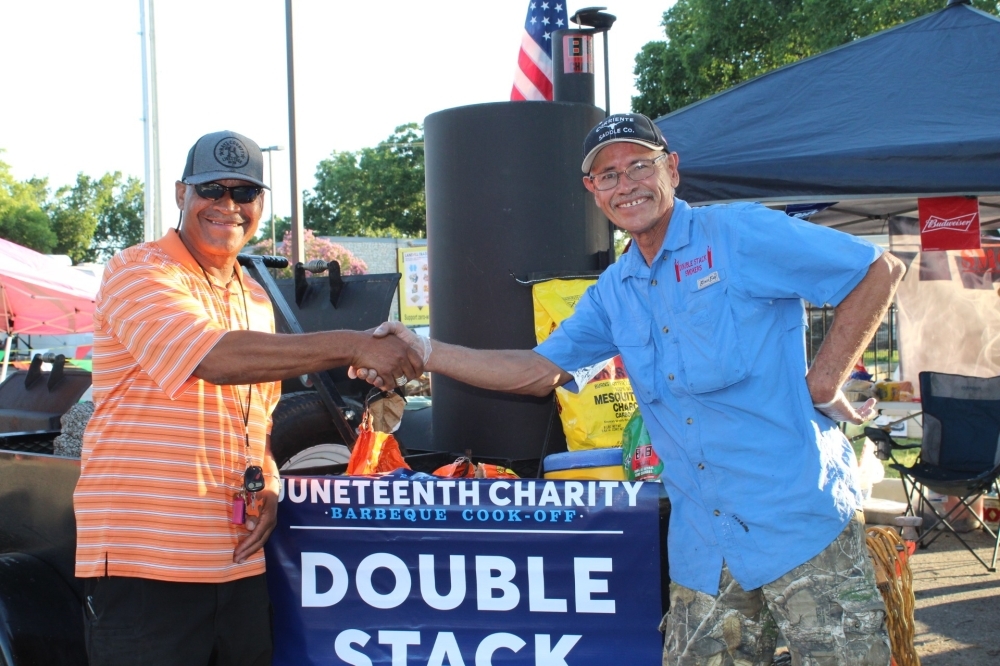 From musicals to professional wrestling, events abound in the San Marcos-Buda-Kyle area in June and July
[ad_1]

The barbecue on June 15. (Courtesy of the San Marcos Juneteenth Foundation)
Throughout the month of June and until July, the towns of San Marcos, Buda and Kyle offer many leisure activities and events.
June 1-30 Celebration of June 17
A number of events will be held throughout the month to celebrate Juneteeth, which commemorates the emancipation of black slaves in Texas, the last Confederate state to do so, on June 19, 1865. The San Marcos Juneteenth Foundation will be holding a competition for BBQ on June 19 at Plaza de San Marcos Park from 11 a.m. to 6 p.m., and the Dunbar Heritage Association will be hosting a same-day event at the Dunbar Community Center from 10 a.m. to 8 p.m. A Roundtable on Peace and Progress will be held virtually and in person at Kyle Town Hall from 7 to 9 p.m. on June 18. More information on these and other events is available online. Release. Hays County Courthouse, 111 E. San Antonio St., San Marcos. 512-393-2277. www.hayshistoricalcommission.com
June 3 August 12 San Marcos Summer in the park
Launched by the San Marcos Performing Arts Association in 1987, Summer in the Park returns this month and will perform Thursday through August 12. Upcoming artists include The Georges, Shelley King, Brave Combo, Aztex, and Sue Foley. The series takes place in Plaza Park, where participants can sit by the San Marcos River. Release. 7:30 p.m. Plaza Park, 206 N. CM Allen Pkwy., San Marcos. 512-393-8400. www.summerintheparksm.org
June 11-27 Seussical the musical
The Inspired Minds Art Center presents Seussical the Musical, a performance of Horton Hears a Who by Dr Seuss with a touch of originality. Directed by Bridget Gates, Horton the elephant discovers a speck of dust populated by the Whos and must protect them from dangers and opponents because, "a person is a person, no matter how small". $ 10 (seniors, veterans, students and children with the code "Rebate $ 5" at checkout), $ 15 (adults). From June 11 to 27, shows start at 7:30 p.m. on Fridays and Saturdays and at 2 p.m. on Sundays. The Chambers Theater, 121 N. Main. St., Buda. 512-537-3987. www.inspiredminds.art
June 12 San Marcos Town Center Farmer's Market
Support local farmers and other businesses at the San Marcos Farmers Market, where attendees can find fresh produce, eggs, local meat, honey, and baked goods. The event takes place every Saturday next to the historic Hays County Courthouse. Other products sold include body care and handicrafts. Release. 9 a.m.-1 p.m. Downtown San Marcos Square, 111 E. San Antonio St., San Marcos. 512-558-1301. www.facebook.com/smtxfarmersmarket
June 12 Kyle Market Days
Organized by the Kyle Parks and Recreation Department, this event is scheduled for the second Saturday of the month through August. The family-friendly event features local vendors, fresh locally grown produce, arts and crafts, and live music. Information on how to become a salesperson is available on the city's website. Release. 9 a.m. to 12 p.m. Gregg-Clarke Park, 1300 W. Center St., Kyle. 512-262-3939. www.cityofkyle.com/recreation
June 12 Pro Wrestling Mission
Pinballz Kindom will host Mission Pro Wrestling, an all-female wrestling company based in Texas. The lineup card will feature the debuts of wrestlers such as Gypsy Mac and Shawna Reed, as well as veterans such as Jazmin Allure and Alex "The Pink Dream" Garcia. $ 10 (children 12 and under), $ 20 (general admission) and $ 50 for VIP tickets. 7:30 p.m. – 10:30 p.m. Doors open at 6:30 p.m. Pinballz Kingdom, 15201 S. I-35, Buda. 512-523-4080. www.missionprowrestling.net
June 14 Sensory fun storytime
Kyle Public Library plans to hold Sensory Fun story time every Monday. The program is touted as an ideal program for children with special needs such as sensory challenges and developmental delays. Children ages 2-5 participate in music, preschool stories, and sensory activity games, among other activities. Release. 10:30 a.m. Kyle Public Library, 500 Scott Street, Kyle. 512-268-7411. www.cityofkyle.com/library
June 19 Great Course
Hagerty Drivers Club presents the Great Race, a 2,300 mile journey featuring some 120 vintage cars traveling from San Antonio to Greenville, SC. Racers compete in cars built no later than 1974, arriving at their destination on time, and without GPS or other modern navigation aids. Vehicles built as early as 1907 completed the journey. Drivers will stop in downtown San Marcos for a quick lunch break before heading to Temple, TX. Release. 12:00 p.m. Downtown San Marcos Square, 111 E. San Antonio St, San Marcos. 1-800-989-7223. www.greatrace.com
June 20 Ramon Ayala
Mavericks Dance Hall Buda presents Norteño music star Ramon Ayala. Known as the "king of the accordion," Ayala, 75, has recorded over 100 albums and won four Grammy Awards. His group will only perform one night during the venue's Tejano Night. $ 30 to $ 500. 8:00 p.m. to midnight, doors open at 7:00 p.m. Mavericks Dance Hall Buda, 275 Old San Antonio Rd., Buda. 512-529-2565. www.buda.mavericksdancehall.com
June 20 Sanmarket Sundown
Presented by Studio San Martian and KHuck Productions, sanMARKET SUNdown takes place the first and third Sunday of the month. The event includes a local market with crafts, raffles, art and food, as well as an open stage featuring musicians, comedians and poets. Participants can bring their own drinks and are asked to be aware of COVID-19 precautions. $ 10. 5-10 p.m. Studio San Martian, 1904 Ranch Road 12, San Marcos. 512-757-8666. www.studiosanmartian.com
June 25 Sip N Stroll
The biannual Sip N Stroll event returns this month in what the Buda city center organization says is the largest to date. Enjoy adult drinks and snacks as you explore the Main Street amid performances by local musicians. Flowers and ribbon chandeliers will grace the street, and attendees are encouraged to wear floral outfits to pair with a free floral wreath and tote bag. A glass of wine will be provided and a limited number of tickets will be sold. $ 30. 5:30 p.m. – 9 p.m. 331 Main Street, Buda. www.downtownbudatx.com/sip-n-stroll
June 26 Come & Tube It Music Fest
Austin reggae group Audic Empire has teamed up with the Texas State Tubes River Outfitter and the TX River Clean-up nonprofit. This eco-friendly music festival will provide tubers with reggae, rock, hip hop, funk and indie music as they descend the San Marcos River. No plastic cups will be allowed. Growler tumblers and mini kegs will be available for purchase or can be brought from home. $ 50 to $ 120. 11 a.m. to 11 p.m. Texas State Tubes, 101 River Park Dr., Martindale. 512-638-7165. Search for "Come & Tube It Music Fest" on Facebook.
June 26 Runfield Race Series 10k
Outsider Anonymous is holding a series of running events in Buda in 2021, and this 10k will be the second. Participants will receive a t-shirt, finish medal, bib, loot bag and refreshments with their registration. A safety plan has been created with the University of Texas School of Public Health, and the event will not be canceled, according to the racing series website. $ 25 (single race), $ 100 (four races remaining). 8:00 a.m. Pavilion behind Lazy River Activity Center, 6910 Sunfield Pkwy., Buda. www.outsidersanonymous.org/runfield
July 3 The Sirens' Bazaar
An eclectic gathering of vendors is brought together monthly by the Mermaid Society. Besides being an arts and farmers market with live music, attendees can also enjoy cave tours and train rides to Wonder World Cave & Adventure Park. The Soulful Creations trailer will also be available to offer BBQ dishes and fried chicken. Release. 10 a.m. to 5 p.m. Wonder World Cave & Adventure Park, 1000 Prospect St. San Marcos. 512-825-2819. www.mermaidsocietysmtx.com
July 7 San Marcos Library Book Club
The First Wednesday Book Club, presented by the San Marcos Public Library, comes together virtually using Zoom. The adults share their thoughts on a book chosen by the group. July's book is Elizabeth Letts' The Eighty-Dollar Champion, a novel about a jockey climbing to the top of the equestrian circuit with his horse, Snowman. Release. 1 pm-3pm online. 512-393-8200. www.sanmarcostx.gov/586/Library
[ad_2]