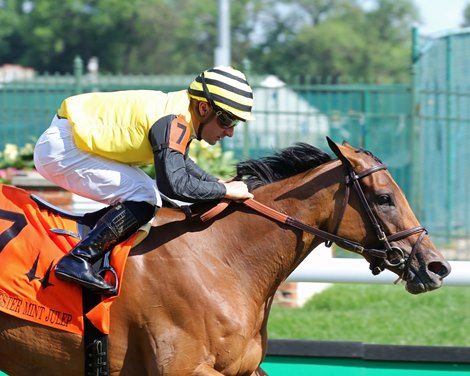 Gam's mission exhausts Dalika in Mint Julep
Back on his favorite grass course, the Lazy F Ranch's Gam's mission worn out a stubborn Dalika to post a 1 1/4 length win in the June 5 $200,000 Old Forester Mint Julep Stakes (G3T) at Churchill Falls.
Winner of the Regret Stakes (G3T) on Churchill's lawn last year, Gam's Mission was the second choice 3-1 behind the favorite Petricor of the Bill Mott barn. Making his third start of 2022 after back-to-back second-place finishes, including a header loss at an allowance on April 23, Gam's Mission bided his time well overdue in the Mint Julep. Bel Mar Equine's Dalika, returning from an eight-month layoff, quickly cleared the field as she led the way through an opening quarter of :24.22 and a half mile of :48 .68.
It was after the half-mile mark that Adam Beschizza pushed Gam's Mission into high gear, and she rode over the leaders with every stride, swinging four wide into the lane for the stretch run. . Dalika ran bravely but was caught in the final sixteen by Gam's Mission, who surged to hit the wire in 1:43.53 for the 1 1/16 miles on a firm course.
"It's a workhorse," Beschizza said of Gam's Mission, which paid $8.20. "This filly is all heart. She probably prefers a small cut in the ground, and that was pretty quick today. She managed to overcome this and win very well. We thought she would be sitting on a big race today and doing well with just a few easy canters in today's race.
Longshot Take Charge Ro was 1 1/4 lengths further in third, a neck ahead of Petricor.
Register for BloodHorse Daily
"Adam did a great job of calming himself down," coach Cherie DeVaux said. "She was a little further than normal, but that's how the race went today with (Dalika) up front. I'm really pleased with her effort to finish so strong.
With her second score, the 4-year-old filly increased her earnings to $448,708 and improved her career record to 4-3-0 in 10 starts.
Bred in Kentucky by her owners, Gam's Mission is out of War Pass winning mare Aunt Martha, the dam of three winners of three foals to run. Aunt Martha, a daughter of Grade 1 winning mare Auntie Mame, has a 2-year-old filly never raced by Burglar cat and a one-year-old foal by dad's hats.
Video:

Old Forester Mint Julep S. (G3T)