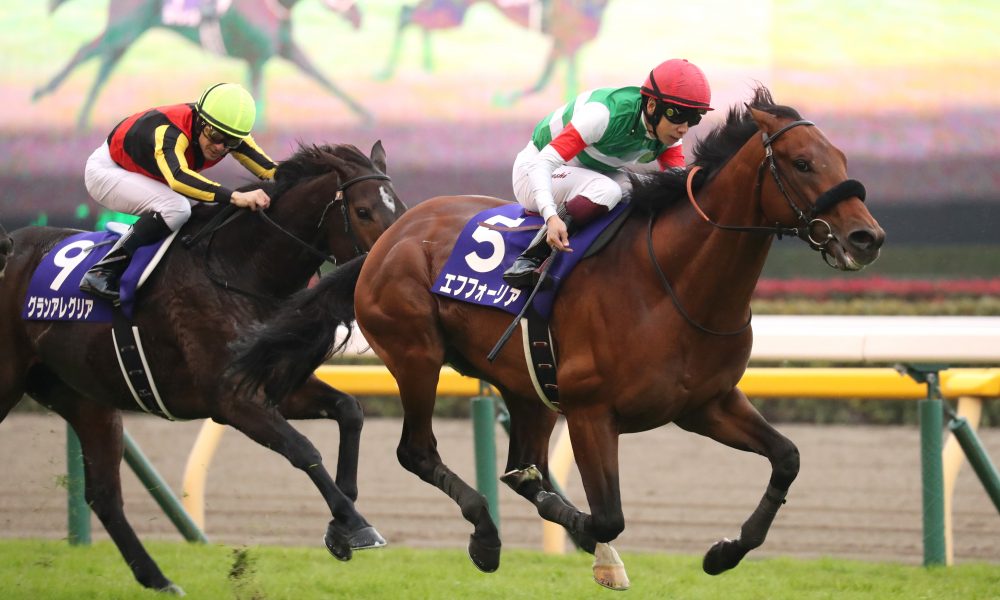 HORSE RACES | Rising star Takeshi Yokoyama rides Efforia to victory at 164th Tenno Sho
~~
~
The Tenno Sho, which stands for Emperor's Prize, has been an annual event in Japanese horse racing since the late 1930s, not once but twice a year.
The 164th Tenno Sho (Fall) wrote a story linked to the rich history of the event and also made the final race event special in itself at Tokyo Racecourse. Promising jockey Takeshi Yokoyama, 22, conquered a deep and talented field and won a Category I race for the second week in a row, beating favorite Contrail by a length in the 2,000-meter showcase on Sunday, October 31st.
Gran Alegria finished a neck length behind Contrail. Both were sired by legendary thoroughbred Deep Impact, 2006 champion Tenno Sho (spring).
With a third place, the streak of consecutive victories ended for the Frenchman Christophe Lemaire, the jockey of Gran Alegria. Lemaire was the 2018 champion aboard Rey de Oro, followed by back-to-back wins with now-retired legend Almond Eye in 2019 and 20.
Yokoyama's winning time was 1 minute, 57.9 seconds on the grass course. He received the top prize of 150 million JPY (US $ 1.3 million). (Watch a replay of the race here.)
Sitting aboard the 3-year-old Efforia, Yokoyama walked out the gate from his No.5 position and effectively controlled the course of his race from start to finish, earning his third career G1 victory for Japan Racing. Association. Coach Yuichi Shikato also claimed his third G1 victory.
And who was the last 3-year-old to win the Fall Tenno Sho?
Symboli Kris S in 2022.
At first, Efforia was just a few steps from the leaders. However, he never got out of the race and maintained a solid pace throughout the race.
Kaiser Minoru set the tone but eventually disappeared towards the back of the field in the closing streak of the race.
Gran Alegria's lead 300 meters from the end broke.
Efforia secured victory in the 200-meter pole vault and withstood the fiery pursuit of Contrail and Gran Alegria down the home stretch, operating from the outside with enough room to move towards her legs.
It was Efforia's first starting mission against older competitors, and he was up to the challenge. Contrail is 4, Gran Alegria is 5.
Takeshi Yokoyama raises his profile
On October 24, Yokoyama and the defending champion triumphed in the 82nd Kikuka Sho at Hanshin Racecourse.
Seven days later, he joins his father Norihiro and his grandfather Tomio as winners of the Tenno Sho (Autumn).
In 1969, the family patriarch held the reins as Mejiro Taiyo triumphed.
In 2009, Norihiro Yokoyama led Company to victory, his 8-year-old horse becoming the oldest winner for the first time in a Japanese G1 race.
Unsurprisingly, Tomio's grandson was filled with emotion on Sunday afternoon.
"I cried with joy for the first time in my life," Takeshi Yokoyama said after the race.
Analyzing Efforia's performance, he added: "He's a good starter and a smart racer, so I decided to believe in his abilities and ride him without thinking too much. We were able to run in an ideal position and I didn't insist on the indoor course because I knew he could handle it even if we had to turn a little wider.
World Premiere, winner of this year's Tenno Sho (Spring), finished 11th in the 16-horse field in front of an announced crowd of 9,867.
Norihiro Yokoyama's mount, Kaiser Minoru, placed 14th. Takeshi's older brother Kazuo Yokoyama led Tosen Surya to 15th place.
Author: Ed Odeven
Follow Ed on JAPAN Forward's [Japan Sports Notebook] here Sunday, in [Odds and Evens] here during the week, and Twitter ed_odeven.