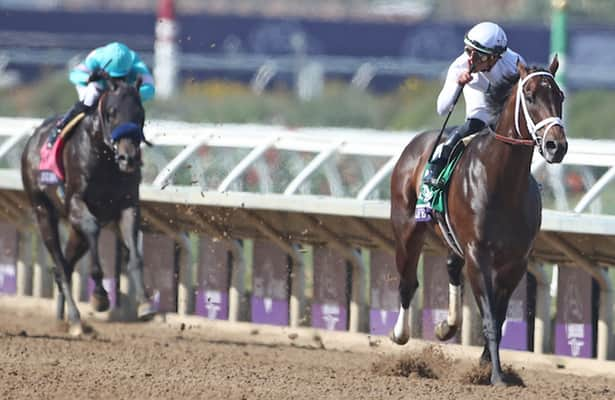 Photo: Wendy Wooley / Eclipse Sportswire
Every time a horse wins a Breeders' Cup race it counts as a great accomplishment because in most cases the winner beats a quality field. But not all winning performances over the two days of the event are created equal.
Based on a number of factors, including TimeformUS, here are the top three Breeders' Cup winning performances at Del Mar last weekend.
Life is good – Dirt Mile
Life is Beautiful Establish a brisk pace and keep moving up the stretch in a machine-like motion to capture the Dirt Mile in style.
The most interesting part of winning Life Is Good are the fractions. In a one mile race, most people see opening fractions such as 22 and 45 as an indication of a fast pace over a mile, even at the graduated stakes level.
Few horses can set fractions of 21.88, 44.94 and 1: 08.76 and still win. Still, Life Is Good defined those lightning fractions and opened up in the stretch.
Jockey Irad Ortiz Jr. used the whip once, but he didn't need it.
Certainly, Life Is Good did not beat the strongest field in the Breeders' Cup. But the riders behind him and left in the dust had some credibility.
For example, Ginobili won local Pat O'Brien Stakes (G2) and Restrainedvengence took home $ 200,000 at Albuquerque Downs in their last starts before the Breeders' Cup. Additionally, the fifth-placed Silver State won the Metropolitan Handicap (G1) and Oaklawn Handicap (G2) earlier in the year.
The most important part is that Life Is Good got a TimeformUS speed figure of 129 without even doing its best. The sky is the limit for this exciting colt.
Golden Pal – Turf Sprint
With his blazing speed and ease of victory in the Turf Sprint, Golden buddy also impressed spectators last weekend. From the start he took control of the race and established a significant cushion before the turn.
While Golden Pal generally breaks well, he broke better than ever and quickly established a two-length margin on a large pitch.
Lieutenant Dan cut the lead slightly and tried to run with Golden Pal.
In fact, Lt. Dan pushed Golden Pal a bit into the stretch as well. When Golden Pal began to accelerate, Lt. Dan kept him within range. The two sprinters parted from the field in an impressive display of raw speed.
Still, Golden Pal only needed a vigorous knack in the stretch. He established his opening cushion quickly and maintained his advantage over Lt. Dan throughout the stretch to win by 1 1/4 lengths, with 3 1/2 lengths also separating Lt. Dan and third place Charmaine's Mia.
Golden Pal drew up fractions of 22.25 and 43.91, with a final time of 55.22.
Due to the lack of time in a grass sprint, wide margins are more difficult to achieve. The race is over before most of the horses can split up.
Golden Pal finished first with a good margin over Lieutenant Dan and also led the rest of the field. The racing public immediately began to rave about Golden Pal's victory, and he deserved attention for his early display of speed and for keeping a talented challenger at bay.
For his efforts, Golden Pal achieved a career high of 125 on TimeformUS.
Echo Zulu – juvenile fillies
Compared to the horses listed above, Zulu echo went at a relatively easier pace before winning the juvenile fillies in an easy way on day 1.
Echo Zulu secured an undisputed lead in the first round and ticked off the fractions of 23.42 and 47.01, which are moderate numbers for a grade 1.
Tarabi followed closely in second, while Juju's Map went outside in third.
The awesome part came in the stretch.
After Tarabi and Juju's Map came together briefly on the turn, Echo Zulu opened again at mid-stretch under a helping hand from jockey Joel Rosario.
Without any use of a whip, Echo Zulu won by 5 1/4 lengths. She also made a good change of head at the start of the stretch and ran straight ahead in a professional manner.
Additionally, Echo Zulu got a speed figure of 114 TimeformUS, and that's the most important part because numbers are at the heart of handicap.
Put Echo Zulu's winning margin and smooth running motion along with the speed figure, and she's an exciting filly to watch next spring.