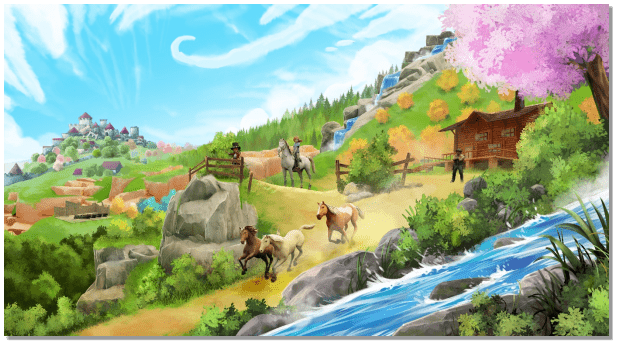 LOOK IN DEPTH AT HORSE TALES – EMERALD VALLEY RANCH DIGITAL BONUSES IN NEW VIDEO
02 Nov

LOOK IN DEPTH AT HORSE TALES – EMERALD VALLEY RANCH DIGITAL BONUSES IN NEW VIDEO

Posted at 5:18 p.m.

in Horse Tales

Microids is pleased to detail the contents of Horse Tales – Emerald Valley Ranchthe digital bonuses of in a brand new video. This content is included in 'Limited Edition' retail of the game, and will be sold separately as DLC on digital stores. To celebrate the launch of the game, the DLC will be free for PC players on Steam for a limited time after launchfrom November 3rd to November 10e.

Developed by the studio Aesir Interactivethe game invites players to embark on a complete open-world horse-riding adventure. Horse Tales – Emerald Valley Ranch set to release on PlayStation®5, PlayStation®4, Nintendo Switch and PC on November 3rd. In North America, the game will launch on November 15e.

The DLC includes:
An additional breed of horse, the 'Irish Cob'
3 sets of "Unicorn" style nails
3 exclusive outfits for your character
A unique avatar hairstyle in three color variations
3 sets of "knight" style nails
Irish Cob horses have a stocky, solidly built appearance and are usually shown and traded at traditional horse fairs. Their gentle and friendly nature makes them a very popular breed! The DLC will allow players to encounter this breed in the wild.
***
***
*Check with your local retailers for availability of the Unicorn Tack Set pre-order bonus in your territory
***
About Horse Tales – Emerald Valley Ranch
In Horse Tales – Emerald Valley Ranch, players will be tasked with restoring their family's dilapidated estate to its former glory. This quest will place them on a delightful open-world adventure where they will explore the beautiful and varied landscapes of the peninsula, from the colorful coastline of Coral Lagoon to the lush forest of Birchwoods.
They will make many friends along the way, including local residents and of course… the horses! Tame, raise and bond strongly with your equine companions, as each is unique and has distinct abilities, personality traits, preferences and training needs.
Make Emerald Valley your own by customizing your adventure: dress up your horses and avatar with a wide variety of clothing and adornment options, and help rebuild and decorate various buildings, stables, and horse care facilities .
Go on an adventure with Horse Tales – Emerald Valley Ranch, coming soon!