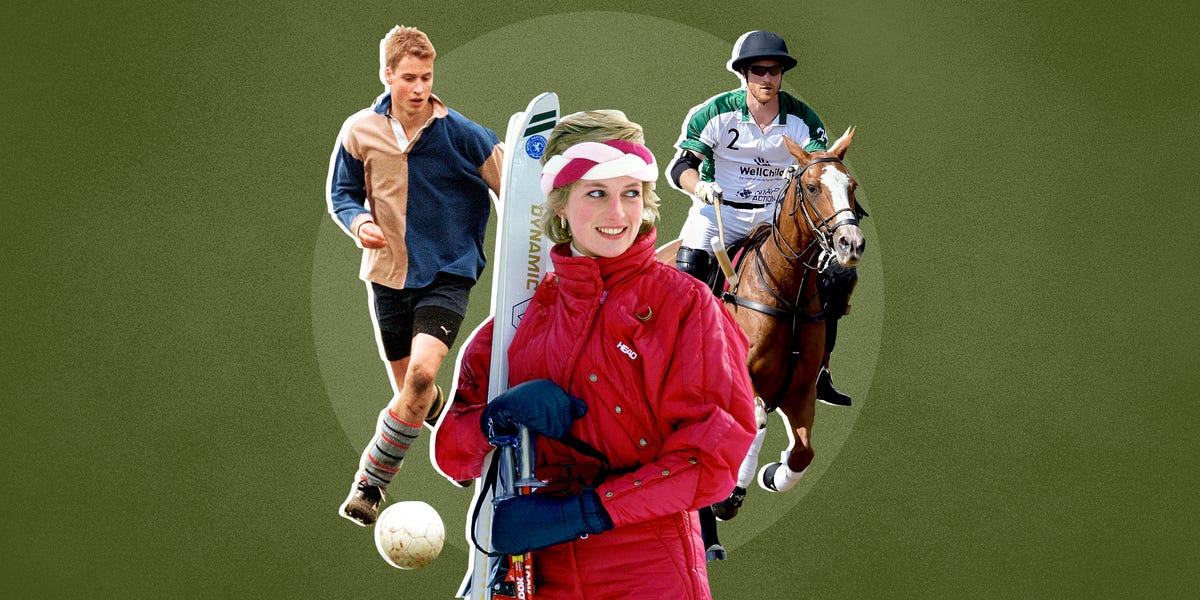 More than 35 photos of the British royal family working out
Design by Michael Stillwell
For generations, members of the Royal House of Windsor have enjoyed playing sports. Princess Anne and her daughter, Zara, have both competed in the Olympics; Princess Diana was known for her stylish ski outfits; and Prince Harry and Prince William have followed in their father's footsteps and both play polo. And then there's Kate Middleton, probably the most athletic royal, who played field hockey in school and is always up for trying a new sporting activity.
The next generation of royals are sporting too: Prince Harry revealed in 2020 that he was trying to teach Archie to play rugby in California, and Princess Charlotte could be spotted kicking a ball football while watching his father play polo in 2019.
Without further ado, here are the best photos of members of the British royal family taking part in sporting activities.
Advertising – Continue Reading Below
Princess Diana played tennis with the world number one. 1 Tennis player Steffi Graf in London, June 1988.
Prince Philip played bicycle polo in August 1967.
Zara Phillips, an Olympian, competed in a Jockeys vs Olympians charity polo match in June 2016.
Okay, he might not technically be playing, but this photo taken on June 5, 1956 of Queen Elizabeth chatting with Prince Philip during a break in his polo match – accompanied by Prince Charles, Princess Anne and one of her corgis – is just too good.
Zara followed in the footsteps of her mother, Princess Anne, who competed in the 1976 Montreal Olympics.
At the Summer Games, Anne rode Goodwill, Queen Elizabeth's horse, in the three-day equestrian event. Here she is pictured during the cross-country portion of the competition.
Prince Harry is a lifelong rugby fan. In 2020, he even shared that he was trying to teach his son, Archie, to play, but was having trouble finding equipment in the United States.
"It's fantastic," he said of his life in California. "What I need are some mini rugby balls which I can then involve Archie in the game as at the moment it is impossible to find any."
Harry is pictured here in 2013.
Following Prince Harry's resignation as a member of the royal family, two of his former rugby bosses transferred to Kate Middleton: the Rugby Football League and the Rugby Football Union.
"These new sponsorships, which have been granted to the Duchess by Her Majesty The Queen, align closely with Her Royal Highness' longstanding passion for sport and the lifelong benefits it can bring, both within our communities and on an individual level," Kensington Palace said. said at the time.
To celebrate her new sponsorships, Kate took part in a rugby training session in England (pictured) in February 2022.
Prince William is also a rugby fan and played the sport at school. He is pictured here in May 2003 with a rugby ball while at the University of St Andrews, Scotland.
However, the best rugby player in the royal family has to be Mike Tindall, a former professional rugby player, who married Zara Phillips.
After: 7 things to know about Mike Tindall
William also played football – er, football – at school. The prince is pictured here at Eton, aged 18.
Princess Charlotte is her mother's daughter: in 2019, while attending a charity polo match, she was photographed playing with a soccer ball.
After: Princess Charlotte's Cutest Moments
Diana with Harry and William on a ski holiday in Austria in 1991.
Royal cousins ​​Prince Harry, Princess Eugenie, Princess Beatrice and Prince William posed for a portrait while skiing in Switzerland in 1995.
Prince Philip also played cricket! (Philip played most sports.) Here he is pictured bowling over the nets during cricket training at the Wiltshire Master Officers Training Center in July 1947.
Prince Charles also occasionally takes part in a cricket match. Here he beat at the Singhalese Cricket Club in Colombo, Sri Lanka in February 1998.
Kate, William and Harry took part in a relay race at a training event to promote their Heads Together charity in London in 2017.
Harry jokingly ran past gold medalist Usain Bolt during his tour of Jamaica in 2012 for the Queen's Silver Jubilee. (Usain let him win.)
Princess Diana ran barefoot when she took part in the Mother's Run on Prince Harry's School Sports Day in 1991.
Princess Beatrice ran the London Marathon in a green tutu in 2010.
Before marrying into the British Royal Family, Meghan took part in a flag football match alongside other celebrities like Serena Williams (centre) and model Hannah Davis (right).
Prince Philip sailed off Cowes, Isle of Wight, in June 1968. (The royal yacht, Britannia is in the background.) During World War II, the Duke of Edinburgh served in the Royal Navy.
Princess Anne took part in the annual Royal Lymington Yacht Club regatta in July 1992.
Prince Edward went windsurfing off Cowes, Isle of Wight, in August 1980.
Prince Charles has been photographed windsurfing a few times over the years, including here in August 1978 in Deauville, France.
Sophie Rhys-Jones, later Countess of Wessex after marrying Prince Edward, is also a fan of windsurfing. Here she went windsurfing off the Isle of Wight in 1994.
This content is created and maintained by a third party, and uploaded to this page to help users provide their email addresses. You may be able to find more information about this and similar content on piano.io
Advertising – Continue Reading Below