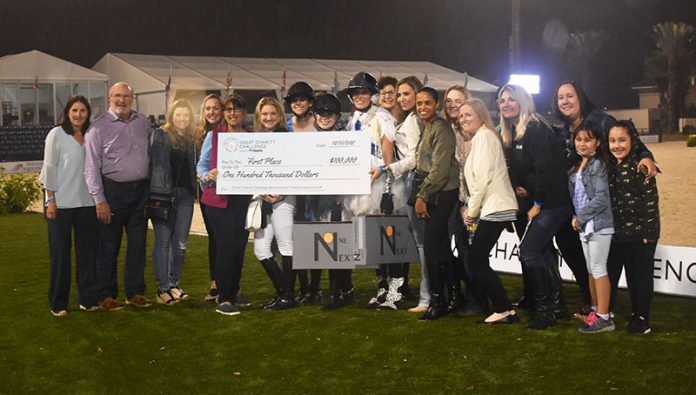 Over $1.7 million donated to the Great Charity Challenge
The Great Charity Challenge, sponsored by Fidelity Investments, once again welcomed supporters and enthusiasts on Saturday February 5th at the biggest philanthropic night of the Winter Equestrian Festival.
Fancifully, 33 teams of riders and their mounts, representing local non-profit organizations, stepped into the ring dressed as characters from childhood tales to compete for a share of more than $1.7 million in prize money. in silver. In the end, the Wellington Schoolboys were the big winners, with the Wellington PTA/PTO/PTSA taking the top prize.
Held at the Palm Beach International Equestrian Center in Wellington for 13 years, the GCC has become a highlight of the winter season and has distributed an impressive $17.5 million to 292 local nonprofit organizations.
This is an exciting show jumping event that combines equestrian sports and philanthropy, bringing hope to more than 50 Palm Beach County charities each year. Each team is made up of junior and amateur racers competing side-by-side with top professionals, with all teams paired with randomly selected Palm Beach County charities.
In addition to the 33 charities that were part of the GCC competition, another 40 nonprofits received funding through grants that were awarded prior to the event. Thanks to many new sponsors in 2022, charities benefited from exciting new initiatives such as the Pet Parade and Costume Contest, which awarded $24,000 in grants, as well as the #BootsforBooks campaign, which will award the minus $70,000 in grants to charities to be announced. February 14th. For a full list of recipient nonprofits, visit www.greatcharitychallenge.com.
"Seeing the resilience our community has shown over the past two years has been both humbling and inspiring. While helping to meet the immediate needs of our community members, these challenging times have also proven to us the importance of long-term, sustainable change," said GCC Co-Founder Mark Bellissimo. "Bringing everyone back in bigger and better ways not only brings our community even closer, but also sets up these organizations to serve our community for long-term success."
Many groups earned acknowledgments this year, including the Ziegler Family Foundation, a strong supporter since the Grand Prix Society was established in 2016; the Doyle Family Foundation and its commitment to supporting volunteerism; the Postage Stamp Farm Foundation for inspiring a younger generation to find joy in giving back; Artemis Farms and Swede Ventures for their generous support of the #BootsForBooks movement; Evergate Stables; and new this year, Françoise Rambach for changing the lives of many with the largest donation ever facilitated by the GCC.
"Having Equestrian Sport Productions and Global Equestrian Group cover all costs associated with the event makes the GCC very unique," said GCC Executive Director Anne Caroline Valtin. "One hundred percent of funds raised go directly to work in our community, creating long-lasting impact."
The winning team of riders – Caroline Mawhinney, Mia Albelo and Jessica Mendoza, sponsored by Sexton Engineering and Triple M Farms – came to the ring representing "The Ugly Duckling" and finished with a time of 93.779 seconds. Their strategy and teamwork paid off for the Wellington PTA/PTO/PTSA, a local non-profit organization that helps all schools in Wellington, earning them the top prize of $100,000.
Team sponsor Sexton Engineering has been involved in the Great Charity Challenge since its inception.
"I would like to congratulate the young girls on this winning team tonight and just say it is truly amazing to see young people striving to be on top of the world and helping our charities in need," said said Mike Sexton of Sexton Engineering.
The Friends of Palm Beach team, sponsored by the Lignelli family and La Victoria Farm, came second. The team consisted of Grace Debney, Alexa Elle Lignelli and Evan Coluccio, who were just over a second away from victory in 94.885 seconds, earning $90,000 for their charity. Friends of Foster Children finished third and won $80,000 with a time of 95.075 seconds. The team consisted of Lindsay Tomeu, Olivia Sweetnam and Shane Sweetnam, sponsored by Spy Coast & Preston and Merryburn Farm.
"Fidelity Investments is committed to making a difference in the communities where we work and live, and we're proud to be title sponsor of the Winter Equestrian Festival and the 13th Annual Great Charity Challenge," said Dave Cvercko, Head of Fidelity Central South Investor Centers regional office. "This significant event has distributed over $1.7 million to more than 50 charities in the Palm Beach community, which will help assist those hardest hit by the COVID-19 pandemic."