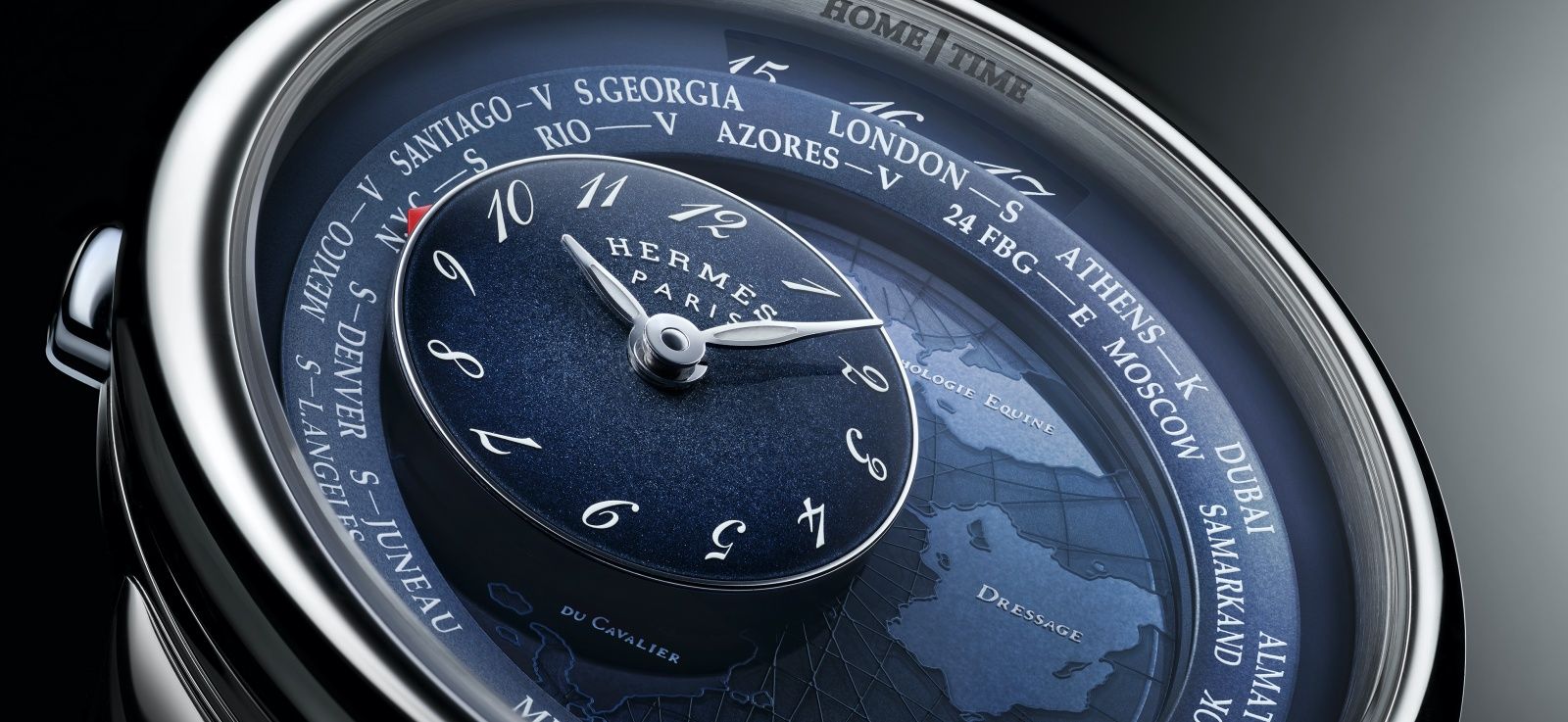 Philippe Delhotal of Hermès on the creation of the Arceau Le temps voyageur
Hermès watch design director Philippe Delhotal sits down with Prestige to talk about the brand's first world-time watch, the Arceau Le temps voyageur.
Hermès is many things to many people. The pinnacle of luxury, the grail of grails, a milestone, a collector's item, art, a dream. The dream is an integral part of Hermès' DNA – imagination is as important to the brand as its equestrian heritage and runs through each of its categories, from leather goods, silk scarves and fashion to watches, jewelery and household items. There is even a series of official Hermès podcasts devoted to the subject.
The role of the dream is particularly evident in Hermès watches. Who can forget the 2011 Arceau Le Temps Suspend, a timepiece that would stop time and resume it with the simple press of a pusher? The watch baffled many watch journalists at the time, who doubted its marketability and deemed the feature unnecessary. I remember a few years later, as a young reporter, naively asking the brand's CEO for watches, Laurent Dordet, why Hermès didn't produce more high complications with its know-how. Amused, he told me that the company had no intention of arguing over such achievements if it did not represent Hermès. It is not Hermès to make complications for complications. Hermès will create complications if it could somehow make people dream and see the world from a different perspective.
That's what I really started to understand in 2019, when I first saw the all-new Arceau The hour of the moon. The watch allowed the viewer to travel to another dimension, providing a unique satellite view of Earth with a simultaneous display of moon phases in the northern and southern hemispheres. It was unlike anything I had ever seen, combining an interesting take on an old complication with poetic whimsy.
Fast forward to today and we see the debut of the Arceau Le temps voyageur, yet another time travel epic from Hermès. Although it is the house's first world time complication, it is unlike any other.
"The idea of ​​travel, which is at the origin of the Arceau Le temps voyageur, was very important to me from the start", explains Philippe Delhotal, creative director of Hermès watchmaker. "It's really part of the Hermès culture. As soon as you enter the shop, it's a real invitation to travel through the objects. So it was pretty obvious to me that I had to dig into this travel topic.
It wasn't just the literal idea of ​​going somewhere, like getting on a plane and setting foot in a new country. For Delhotal – and for Hermès – one could travel simply by reading a book, or open up to new ideas, by dreaming. And for Delhotal, this current climate seemed to be an opportunity to travel again in watches.
In many respects, the Arceau Le temps voyageur is related to the Arceau L'heure de la lune. "The moon phase was also an invitation to travel," explains Delhotal. "Not on Earth but in the sky with the Moon, the Sun and the stars. There is also a family connection between the two watches – they are a bit like cousins ​​– as well as in the aesthetics between the two launches.
World time complications are plentiful in the watch industry – it's a useful and rather practical complication intrinsically linked to houses such as Patek Philippe, Vacheron Constantin and Jaeger-LeCoultre. For Delhotal, it was therefore important that a Hermès worldtime watch present something completely different and extraordinary.
"We could have done it a long time ago, because this topic is really strong for us," says Delhotal. It echoes what Dordet told me years ago, that Hermès doesn't do things just because they can. He does things when he can surpass what others are doing and bring his own unique poetic touch.
Thus, the first challenge taken up by Delhotal was to bring a new reading of universal time, another aesthetic and a poetic approach to a well-known complication. And that led to the second challenge, which is how to solve the technical issues of creating a new universal time reading.
The solution leads to a new patent for Hermès. "The patent relates to the satellites we had developed, which have now become a signature for us," says Delhotal. "There are three technical differences between satellites and time reading. First, you have the hour and minute indicators. Then you have the hand that shows cities. And finally you have the position of the satellite.
The brand has teamed up with watch movement specialist Chronode to create the exclusive "travel time" module, integrated into the Hermès H1837 self-winding mechanical movement. On the dial, the mobile counter displays the hours and minutes of the 24 time zones, moving around the circumference of the watch to indicate the city whose time it indicates. The home time indication is positioned in an aperture at 12 o'clock.
The watch comes in two variants. The 41 mm size is offered in a platinum case with a bezel in grade 5 titanium with microblasted matte black DLC treatment and a light gray galvanized dial, while the 38 mm version is in 316L steel with a blue galvanized dial.
To deepen the dreamlike motif that surrounds Le temps voyageur, the dial features the Planisphere motif of an equestrian world designed by Jérôme Colliard and presented for the first time in a silk square for autumn/winter 2018, which represents continents and seas that pay homage to the bond between the rider and his mount in an imaginary equestrian world.
"If we hadn't had this very pretty World Map motif, Delhotal confides, we would never have made the watch.
It took Hermès three years to create this new world time reading, but Delhotal says that without the pattern to go with it – whether it's from the creative world of Hermès or something the team d'horlogerie had to develop itself – he was ready to "wait until we had a good idea in terms of creation".
"Our first objective at Hermès is not to make a very complicated watch," Delhotal reminds me. "The first objective is to make our employees dream. If for this we need to develop something complicated, we will work on it. But in the end, if we could also make people dream with very simple watches, that would be even more important for us. The objective is therefore not to collect achievements in terms of development and technical issues. It is not the first object, it comes later. We want our customers to travel with Hermès in a different way.
This story first appeared on Prestige Online Hong Kong.