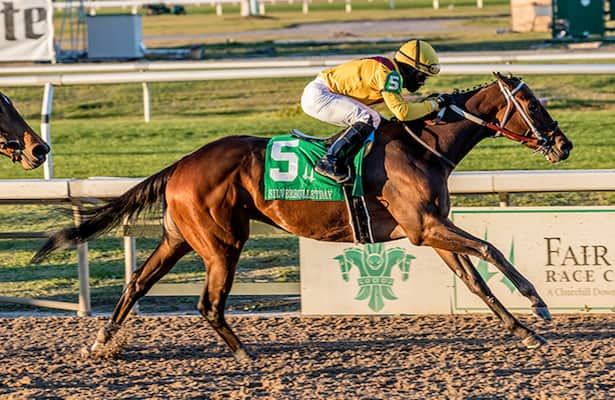 Undefeated Crete fight back to win Silverbulletday
Photo: Hodges Photography
On the way to Saturday's $150,000 silverbulletday At Fair Grounds, many had a question in mind: which 3-year-old filly would run in the lead with La Crête throughout the 1 mile, 70 yards?
The answer was Fannie and Freddie in what turned out to be a two-horse race where each competitor put the other aside. But in the end it was Stonestreet Stable Ridge who made the final winning move, earning Kentucky Oaks 10 points in the process.
She won her first outing last November at Churchill Downs in dominant fashion, so with Joel Rosario back on board, the tactics for her second start were no surprise. La Crête set the tone early, posting reasonable splits of 24.50 and 48.79 while clearing 1 1/2 lengths. Working from a three-to-four wide press in the first corner, Fannie and Freddie, coached by Al Stall Jr., got to work at the top of the second corner, leading 1.10-1 favorite Crete to quarterback. pole. .
It was a duel from there. Fannie and Freddie trailed by a head, but with 1/2 meter to go, Joel Rosario demanded more and got a stunning push that put the Steve Asmussen-trained filly in the winner's circle in a final time of 1: 43.93 for the 1 1/16 miles.
"(La Crête) is a special horse," said Joel Rosario. "It's unbelievable. It looked like (Fannie and Freddie) were beating me but then she came back and we got the win. That horse moved on me and it looked like she would get the win, but then (Crete) improved and gained her trust and we passed her.
Fannie and Freddie ran a similar race in the Untapable, where she also had the lead heading home but was passed near the wire by the undefeated North County. She had four points at the Kentucky Oaks on Saturday, bringing her total to 8 points.
"(Fannie and Freddie) are getting better with every trip," said jockey Colby Hernandez. "She's starting to get up to speed now. She has very good performance. She was a beautiful filly who beat us and we put her aside for a while and the horse came back on us.
Bernabreezy, trained by Matt Shirer, rode the rail four to five lengths throughout, taking the second turn coupled inside the second pick 2.10-1 Sweet as Pie. With the late kick previously demonstrated by Bernabreezy, after expertly tightening around the straight bend, the race set for the 5.80-1 filly to ride the rail beyond those two, but she never came closer than two lengths. She would settle for third place, 3 1/2 lengths behind the winner, earning two Kentucky Oaks points. Candy Raid came in late while deep in the center but never threatened to finish fourth, earning an Oaks point. The Florida invader formed by Todd Pletcher, Sweet as Pie, returned last.
The spotless 2: 2-0-0 Crete has earned the right to follow in the victorious footsteps of its half-sister Clairière to Rachel Alexandra (G2) in February. With $159,460 in purse money, she has a new notch under her belt after taking on and beating an enemy down the stretch.
"She's a bit more forward than Clairiere was at the start," assistant coach Scot Blasi said. "But when it comes to working and training for a race, they are very similar. We will let Echo Zulu (Breeders' Cup Juvenile Fillies winner) do her thing. This filly will continue to develop, a big step forward here today and we're just so proud of her Stunning Stonestreet filly, lucky to have her.
Echo Zulu, likely to be crowned an Eclipse award winner in no time, has been settled at Fair Grounds for over a month and has yet to appear in the work tab.